Your wedding is one of the most memorable and significant days of your life. Picturesque Kellogg Manor is a wonderful choice to bring beauty, luxury, and a one-of-a kind wedding experience to the couple, and all your guests. From your ceremony, reception, rehearsal dinner, or bridal shower, we can do it all.
Restored to its original and elegant grandeur, the W.K. Kellogg Manor House is situated on beautiful grounds overlooking breathtaking views of Gull Lake. Imagine yourself dressing in the historic bedroom setting, the elegance unprecedented. A look out the window reveals the rolling grounds with beautiful naturally landscaped gardens, a reflection pool with a fountain, and a vast view of the Gull Lake shoreline. Picture walking down the grand staircase to any one of our on-site wedding locations — you can feel the history and sophistication that will be the backdrop of your entire wedding day. When you book your wedding at Kellogg Manor, you are not just booking a wedding venue… you are booking an experience.
Here at the Manor House, we know that planning a wedding is a big undertaking, and we would love to take the stress of the day off your shoulders. When you host your event here at the Manor House, not only will your guests enjoy everything our picturesque destination has to offer, but our dedicated wedding coordinator will provide assistance in event planning from beginning to end. Our professional, proactive service for your event offers a full-time resource available to you for anything you may need. We will help you select the on-site venue that best suits your wedding, assist you in making arrangements for your special day, and guide you in the selection of food and beverage service. We take care of the details so you can focus on your special day and the memories you will make to last a lifetime.
Fill out our contact form and a Manor House event coordinator will contact you shortly.
Ceremony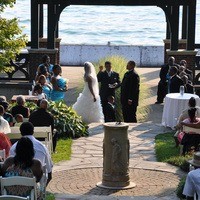 We have two beautiful options to host your ceremony right on site. We have a beautiful pagoda with sweeping views of Gull Lake as the backdrop for your vows. The lawn is another wonderful option for ceremony locations. The lush lawn and natural gardens bring an outdoor elegance to your affair. We have 150 chairs for seating included in the package. An additional 50 chairs can be set in either ceremony location for a fee, for a total of 200 guests. The beautiful Manor House is the alternative rain location for events with under 100 guests.
Receptions
Receptions at Kellogg Manor possess both elegance and beauty. Guests are sure to delight in the grandeur of the estate and excellent service of our attentive staff. The Manor House is available to receptions under 100 guests. For larger parties, or if you would like to enjoy an outdoor setting, a large tent on the grounds will provide protection from the outdoor elements, while still providing an outdoor backdrop to your event.

Rehearsal
On-site rehearsal for your wedding is provided complimentary up to three days in advance of your wedding with the coordinator in attendance for one hour. The Manor House is a wonderful option for your rehearsal dinner as well. The convenience of one venue for both rehearsal and dinner will be easy for your guests, and the food experience and service will exceed your expectations.

Rates
Rate includes 150 white wood padded chairs for a three hour time period, the use of Mr. and Mrs. Kellogg's bedrooms for dressing, and all set-up and tear down.
Last Two Weekends of October
Fridays/Sundays May, August, September & October

$850
September
First Two Weekends of October
Fridays/Sundays June-July

$1,500
May-August (Saturdays)
$1,800
Receptions using the Kellogg Manor House and adjacent gardens:
20-45 guests $825
46-55 guests $950
56-65 guests $1,075
66-75 guests $1,400
76-85 guests $1,600
86-100 guests $2,125
Receptions using the lakeside lawn with complete tent package:
100-125 Total Guests 40×60 Frame Canopy $6,500
126-150 Total Guests 40×80 Frame Canopy $7,020
151-200 Total Guests 40×100 Frame Canopy $7,530
All package rates come complete with our expert on-site wedding coordinator services.

Catering
Here at Kellogg Manor, we know that food has the influence to take a great event and make it an outstanding event. KBS provides all food and alcohol catering . Our chef has the experience and expertise to please your guests with exceptional food for your wedding. We offer a complimentary taste testing for your wedding of 35+ guests with both our wedding coordinator and chef in attendance to guide, assist, and answer any questions you may have. We feature locally grown produce and in addition, the chef can assist with dietary restrictions such as vegetarian, gluten-free, vegan, food allergies, religious requirements, etc. Let us know how we can please your palate! View our
2018 Wedding Menu .
The staff at the W.K. Kellogg Manor House will work to ensure your event is a success. Our event coordinators will work with you to plan every detail of your event and offer custom catering to fit your needs. Please review our policies.
Testimonials
We can't think of anyone better to tell you about our first class bridal experience than the brides that have experienced our expert services first hand.
Blog Post by Tiberius Images 7-14-2017
Visit our Gallery
Lodging
Caretaker's Cottage
The Kellogg Biological Station is proud to offer our guests the opportunity to stay in one of the original, historical structures on the property. First built in 1925, this historic cottage was home to the Kellogg property's caretaker. It has three bedrooms upstairs, office area, living room, full kitchen, dining area, sun porch, 1.5 bathrooms, air conditioning and is fully furnished. Set back from the road, the home provides privacy and is beautiful in all seasons. Sleeps 1-5 guests. For more information on rates and availability contact the Events Office at manorhouse@kbs.msu.edu or call (269) 671-2160.
Lakeside Cottage

Another original, historical structure located on the south side of the estate offers beautiful views of windmill island with convenient parking. This cottage offers 1,690 sq. ft. with queen bedroom and master bath on first floor, three additional queen bedrooms upstairs with shared bath, large living space, dining room, kitchen, air conditioning, fireplace and is fully furnished. Sleeps 1-9 guests. For more information on rates and availability contact the Events Office at manorhouse@kbs.msu.edu or call (269) 671-2160.
Additional lodging available through the Conference Center.