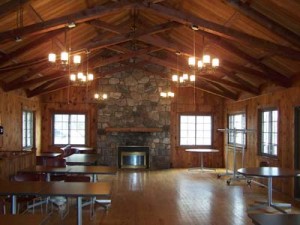 Spruce Lodge is a lovely destination for your next event — a true Pure Michigan feeling of the great Upper Peninsula without the long commute, nestled right in West Michigan between Chicago and Detroit. Guests of your business meeting, private party, rehearsal dinner, family reunion, bridal shower, baby shower, or any event you can dream of will all enjoy the quiet and serene lodge with great views of Wintergreen Lake and the Bird Sanctuary.
Two floors; The upper level has 989 square feet of space with tables, chairs, fireplace and deck area overlooking Wintergreen Lake. The lower level features 747 square feet with full kitchen, fireplace and seating area.
Restrooms located on the lower level.
Maximum capacity is 50 people.
Wireless Internet and projection screens are provided.
Coffee, water, and snack services are available with a full-service rental for business meetings. You may also bring your own food and beverages for any gathering in Spruce Lodge to suit your guests' needs.
Spruce Lodge resides within the beautiful W.K. Kellogg Bird Sanctuary. Visitors to the Lodge receive free access to the Sanctuary grounds. Families, photographers, birders, and nature enthusiasts alike will enjoy a relaxing stroll through this natural haven, surrounded by a broad diversity of wildlife.
Rental Opportunities
Meetings with Full Service: $28.00 per person per calendar day includes: Spruce Lodge rental fee, all-day coffee/water service, standard AV equipment, and morning and afternoon snack service each day. Please inquire about additional meal options.
Rental with No Services: $150 per calendar day. The lodge will be clean with no additional services provided. Tables are available.
Restrictions: Spruce Lodge is not completely barrier-free. People with restricted mobility may need assistance with short entry step and the interior stairs to the lower-level restrooms. Please inquire for more details.
Kellogg Bird Sanctuary (access) – Rental includes free access to the Sanctuary's public area. If your group would like to visit the self-guided trail at the Kellogg Bird Sanctuary, please check in first at the Sanctuary's Resource Center as Lodge Guests.
Spruce Lodge is located within the W.K. Kellogg Bird Sanctuary at 12685 East C Avenue, Augusta, MI 49012. To make a reservation or receive more information, contact conference@kbs.msu.edu or call (269)671-2400.